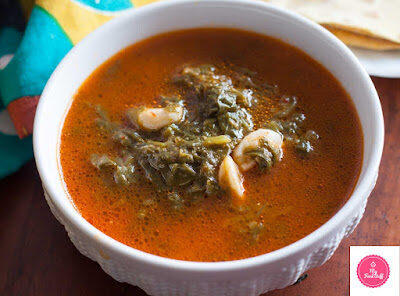 Malabar Spinach Curry is a very easy recipe made from Vine Spinach or known as Malabar spinach which is made in-ground fresh coconut, tamarind paste, and dry red chilies. The word "Valli" means spinach which is the major part in curry, the leaf contains high nutrients which control the cholesterol level and contains more fibers. And also it helps for digestion problems.
Skill level: Easy
Cook time: 20 min
Ingredients:
• Spinach Leaves (1 cup)
• Cloves Garlic (4)
• Salt
To Grind: 
• Fresh coconut (1/2 cup)
• Dry red chillies (3)
• Tamarind (18 grams)
How to Prepare?  

• To start preparing the Malabar spinach Curry, we need to heat the pan and roast the red chilies till it turns brown.  After that coming to the grinding portion, grind roasted red chilies, tamarind, and coconut till it turns into a smooth paste with the addition of some water.
• Now heat a pressure cooker and add required oil, wait till oil gets warm then add cloves garlic and wait till it browns and add spinach leaves and cook it for a few seconds.
• Now add the ground paste and half a cup of water and salt as needed. Then close the pressure cooker and wait for 2 whistles. Now open it and feel the pleasant smell of Malabar spinach curry and don't let your tongue wait for it.
Sever the delicious Malabar spinach curry with steamed rice by adding some ghee on top to enjoy the pleasant taste of your routine lunch. Try this at your home and keep enjoying your lunch.
Source: https://myfoodbuff.blogspot.com/2017/12/malabar-spinach-curry-vali-bendi.html