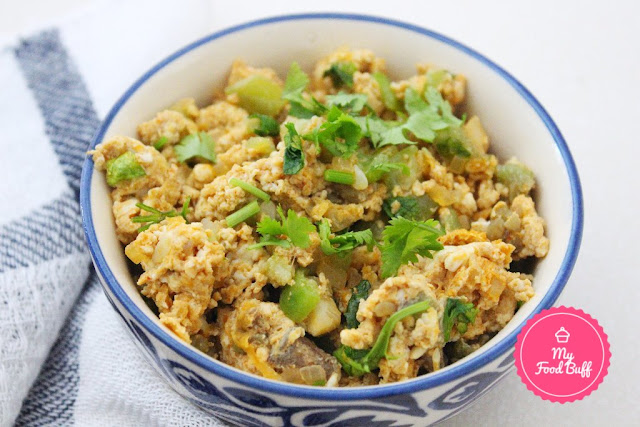 A perfect dish for your diet, which has a strong impact on your health with ridge gourd, however, it's not highly chosen by different in spite of containing several health benefits. It is highly rich in fiber and contains fewer calories helping in weight loss. The spicy taste of chili powder and coriander will make its nutrient level remains stable for a long. Phulkas and Panchmel Dal is the best combo for this scrambled egg with ridge gourd sabzi.
Skill level: Easy
Cook time: 15 mins
Ingredients:

• Ridge Gourd (300 grams)
• Whole Eggs (4)
• Onion (1)
• Ginger (1 tablespoon)
• Green Chillies (3)
• Coriander Powder (1 tablespoon)
• Red chilli powder (1 teaspoon)
• Turmeric powder (1/4 teaspoon)
• Curry leaves (1 sprig)
• Coriander leaves (2 teaspoon)
• Salt
How to Prepare?

• To start preparing this spicy and delicious dish, initially, make the ridge gourds read (peel and cut) and keep it aside. Now heat the pan with oil, then splutter it well with cumin seeds and then add green chilies and ginger and stir it well for 1 min.
• Now add chopped onions and curry leaves then mix it well until it gets brown. Now add the seasoning (chili powder, turmeric, coriander, and ridge gourd) with salt and sauté it well and let leave the ridge till it cooks well around five mins.
• After 5 mins, add eggs into this and mix it well until the ridge gourd and eggs are mixed together. Finally, turn off and sprinkle the coriander leaves in it. Now it's ready to taste with Phulkas and Panchmel Dal for a pleasant dinner and for your healthy breakfast.
Source: http://myfoodbuff.blogspot.com/2017/12/scrambled-eggs-with-ridge-gourd-sabzi.html