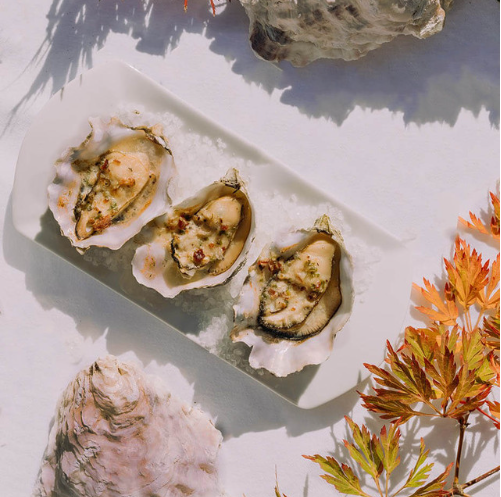 For many people, a BBQ session means cooking up a delicious spread of grilled chicken breast, skirt steak, pork chops, or a cheeseburger. Most barbeque enthusiasts don't tend to stray far from their idea of what they believe a BBQ should be—veggie burgers are about as wild as they get.
But it's time to mix it up. You need oyster grillers at your next backyard BBQ!
Sure, oysters aren't your typical barbeque food, but they are extremely versatile. Forget the idea that oysters are only meant to be eaten raw, they're a perfect choice to toss above the charcoal (or propane) on the stainless steel.
These are a few of our favorite ways to enjoy oyster grillers:
We love this recipe from legendary chef Bobby Flay. These warm oysters get an extra kick from the jalapeno, completely flipping the script of how oysters are typically enjoyed. To take things up an extra notch, add this to a Mexican-inspired barbeque as a side to a quesadilla or chicken wrap.
With an average rating value of 5/5 stars, this zesty, cheesy oyster griller dish features Worcestershire sauce, hot sauce, and a healthy topping of parmesan and mozzarella cheese. These Char-Grilled oysters are to die for, giving you a high-end barbeque dish that is the perfect appetizer for a skirt steak. Move over Firebirds, this recipe is sure to please even the most discerning of meat lovers!
If you're looking for a grilled oyster dish that will fit perfectly into that "stereotypical" barbeque spread, look no further. This recipe loads up on cheddar cheese and ranch dressing, making it the oyster equivalent of a baked potato.
All three of these oyster grillers are sure to be a hit at your next barbeque, helping you change the dialog surrounding how oysters should be enjoyed.
If you're ready to take the leap, you can find a selection of succulent oysters on our website. Taylor Shellfish Farms is family-owned, so we know that there can be a lot of mouths to feed at the backyard BBQ, which is why we offer free delivery for large orders. Not sure about ordering oysters online? Check out our customer reviews!