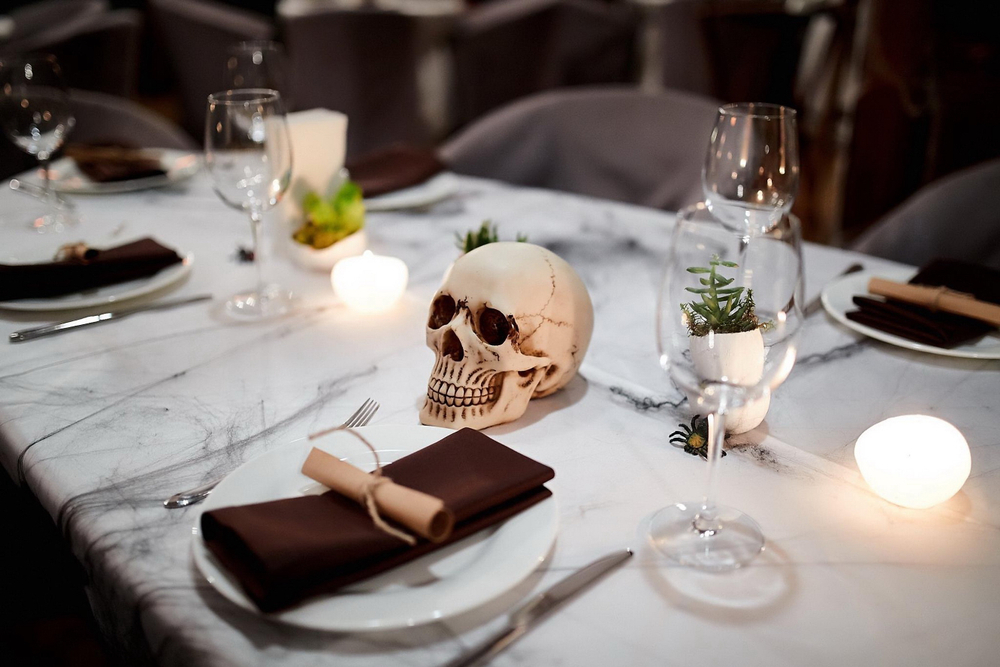 It's Halloween! Time for trick-or-treating and costume contests. It's fun to hoard chocolate, but everyone wants an invite to a festive party. If you plan on hosting a few guys and ghouls, we'll show you which snacks and treats make for a spooky celebration. Find inspiration for creepy décor and fun activities, and then see how simple to create a scream-worthy scene. With these tips, you're sure to haunt your guests!
Buy the "Good Chocolate"
Sweet treats make for a bewitching Halloween party — and, if you ask us, it's worth buying the "good chocolate." We have plenty of reasons to shop for craft chocolate bars and vegan chocolate. For one thing, you'll serve quality-made confections with a simple list of ingredients. With vegan and certified kosher chocolate bars, more of your guests can enjoy something delicious.
Craft chocolate is loved by party goers of all ages. Our favorite plant-based chocolate products include fudgy dark chocolate and creamy oat milk chocolate with tasty additions like organic vanilla beans and vegan toffee. Let the grown-up guests indulge in deliciously complex flavors like bold coffee truffles and bars filled with almond and sea salt. Offer a variety of chocolate so everyone can try something new. When the treats are tasty, your guests will leave with something to talk about.
Create a Spooky Party Scene 
An unforgettable Halloween party also needs spellbinding décor! You decide how frightening to make the scene. You can go with a super-spooky setup or something a little less spine-chilling:
          Party Idea 1: Scary Haunted House
If your guests like things scary, design your space to look like a haunted house! Set up a fog machine, and then add green or purple lights for a creepy mood that looks more like a swamp than a backyard or a living room.
Add chilling werewolf figures to corners and blind spots for a quick scare. Place a few large skeletons and red-eyed pumpkins. Then include a fear-inspiring soundtrack featuring startling bat noises and witches' screams. This party is sure to be creepy!
Party Idea 2: Enchanting Zombie Ball
Halloween is a night for the otherworldly, but some celebrations call for more fun and fewer thrills. An all-ages zombie ball will lighten the mood while keeping things corpse-like. All you need is plenty of orange and black décor. Hang bats and ghosts from the ceiling, and then add black candelabras with orange or purple taper candles. This combination is sure to create an otherworldly feel. More horrible décor ideas include glitter skull heads and glow-in-the-dark garlands.
Attach garden stakes to painted foam gravestones for an outdoor space that looks like a graveyard. Play songs from horror movie soundtracks and include a few Halloween-inspired dance tunes.
Offer Unique, Tasty Treats
Now that you have delicious vegan chocolate bars and craft confections for your partygoers, it's time to take your treat selection to the next level! Why not make your celebration a standout by making drinking chocolate? Created from dark chocolate crumbles, this adult version of powdered hot chocolate is perfect for mochas and hot cocoa. Drinking chocolate is a unique beverage you won't find at most other celebrations. It's also an excellent refreshment for cooler weather.
The culinary-minded host balances chocolate products with fresh and savory Halloween treats. Chipotle pumpkin hummus is a smoky and nutty snack you can serve with veggie sticks or pita chips. Peeled tangerines with a small bit of celery on top to look like a stem will appear like real pumpkins. Plus, this cute little snack gives your guests a sweet, fruity pop to balance with dark chocolate. Elevated party snack ideas include cups of butternut squash or pumpkin soup with seed toppings.
Encourage Fun Costumes
When you make your Halloween party invitations, be sure to mention Halloween costumes on the card! Most guests will assume they should show up in creepy outfits, but it's still worth saying it's a costume party. Let your guests enjoy the act of dressing up or ask them to participate in a costume contest.
Create rules for entering and casting a vote for the best costume. Some parties will have a single winner, while others will feature costume categories or make a separate competition for adults and kids. Prizes may include a gift box of chocolate bars or a bag of drinking chocolate.
Go ahead and offer a Halloween-inspired decoration or a candle for the guest to take home. Or give out gift cards to a local ice cream store or restaurant. No matter who wins the contest, everyone will enjoy seeing each other dressed up.
Include Festive Halloween Activities
Delicious treats and creepy Halloween costumes keep the party festive, but you can infuse even more fun with a few activities! It's always exciting to make a photo booth so everyone can take pictures in their outfits. It's also the perfect time for karaoke or a dance competition with prizes. If you want something more low-key, have a game of Halloween Bingo. Offer a caramel apple bar where guests can add their own toppings. Carve a pumpkin with a big mouth, and then throw bean bags inside for a spirited bean bag toss.
Have partygoers guess how many pieces of candy are in a jar. The winner gets a tray of Halloween cookies or a large chocolate bar. Kids will love a spooky pinata that looks like a ghost or pumpkin. Fill it with pieces of chocolate so there's a sweet motivation for the winner.
Hosting an Unforgettably Ghoulish Party 
Like a delicious witches' brew, the perfect Halloween party includes a few main ingredients. Start with tasty chocolate treats and eerie décor. Add more snacks and beverages and a few interesting activities. With a little music and some unearthly costumes, your celebration will have something for everyone!