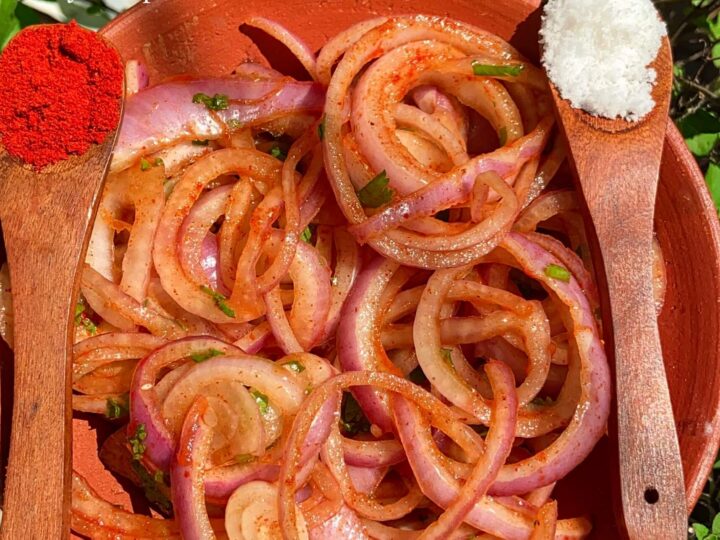 The main course is incomplete without salad. If we do not have a good plate of salad with us, we will not enjoy the meal. Among all the veggies we chose for the salad, the onion hit the top.
Well, here I am sharing a small recipe with you to prepare spicy onion rings with only 3 ingredients. These spicy onion rings are not only great to have with the main course, but one can easily have them with other Chinese dishes. Let's have a look and prepare them easily!
Ingredients required: –
The ingredients required to prepare spicy onion rings are:
Basic spices, including Kashmiri Lal Mirch, black pepper, salt, red chili, chaat masala
Preparation time:
15-30 minutes only!
Steps to follow:
Cut the large onion into rings. Separate all the rings from each other.
Put all the onion rings into a bowl.
Pour in ice-cold water and leave the big-sized onion rings in it for the next 15 minutes.
Drain all the water from the bowl.
Add all the basic spices you have gathered as per your taste.
Mix it well.
Now squeeze the lemon over it and mix it again.
Viola! The spicy onion rings are ready to serve!
Some more tips to know:
Try to cut the onion rings a bit thicker because thin onion rings do not retain their same shape for a longer duration.
Wash the onion rings before putting them into a bowl full of ice-cold water.
Add some finely chopped coriander to the onion rings for garnishing.
Put more chat masala instead of red chili powder.
Do not store these onion rings for a longer duration because the shape will change and they will appear to be loose.
Note: If you dislike the flavor of lemon, use only a few drops of lemon juice in it. To mix all the spices well, you can simply add a little water to it. Make sure the quantity of water is only one to two tablespoons.
This is the simplest recipe that will help you to easily make spicy onion rings. Serve them this night and be ready to see the reaction of your spouse. I hope you like this recipe. Do not forget to share your reviews in the comment section below!