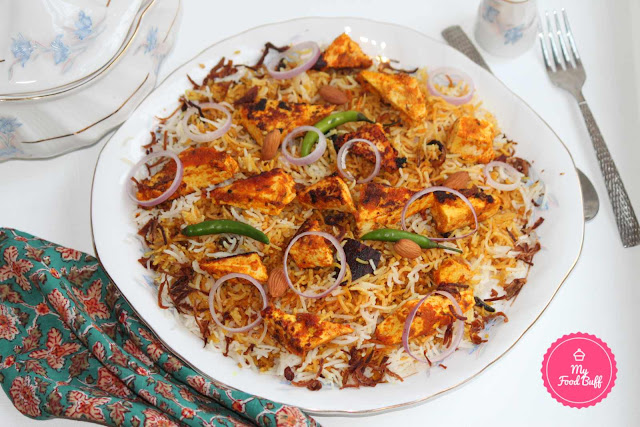 The perfect easy and delicious dish for your guest or for your family that suits at any time is Paneer Malai Makhani Briyani. Nowadays, the most popular dish is "one-pot rice" which will aid you in saving your precious time. Similarly, with this Briyani you can feel the taste of soft paneer at every bite and fulfill your whole family or your guests.
Skill level: Easy
Cook time: 40 mins
Ingredients:
• Basmati rice (1 cup)
• Ghee (4 teaspoons)
• Onion (2), sliced
• Biryani Masala (2 teaspoons)
• Lemon juice (3 teaspoons)
• Paneer (200 gram), cubed
• Turmeric powder (1 teaspoon)
• Red chili powder (1 teaspoon)
• Homemade tomato puree (2 teaspoons)
• Hung Yogurt (4 teaspoons)
• Lemon juice (1 teaspoon)
• Ginger garlic paste (1/2 teaspoon)
• Cooking oil (2 teaspoons)
• Salt

How to Prepare:

• To start preparing this delicious recipe, initially soak 1 cup of basmati rice and keep it aside for 10 minutes. Now boil this rice with a heavy-bottomed pot. And don't allow the rice to cook fully, just before it becomes grain, and spread it for cooling.
• Now slice the paneer into cubic shapes and keep it in a bowl and add some red chili and turmeric powder, curd, tomato puree pinch of salt, and lemon juice and mix well and keep it aside for 5 minutes.
• Now heat the pan with oil and add the seasoning then fry that for 5-8 minutes. Then cook well until it becomes brownish at this stage, remove the paneer and keep it cool. Now sprinkle salt and lemon juice on rice then gently mix the rice with the aid of a fork without damaging the grains.
• On the low flame heat, put a pan and add some ghee and onions and stir it well until it turns brownish. Now add the rice, biryani masala, and ¾ fried onions and stir gently for about 1-2 minutes.
• Now turn off the heat and serve the biryani on a separate plate and decorate it with paneer and add the rest fried onion into it. That's all, your hot and delicious paneer malai biryani is ready to enjoy.
Source: https://myfoodbuff.blogspot.com/2017/12/paneer-malai-makhani-biryani.html