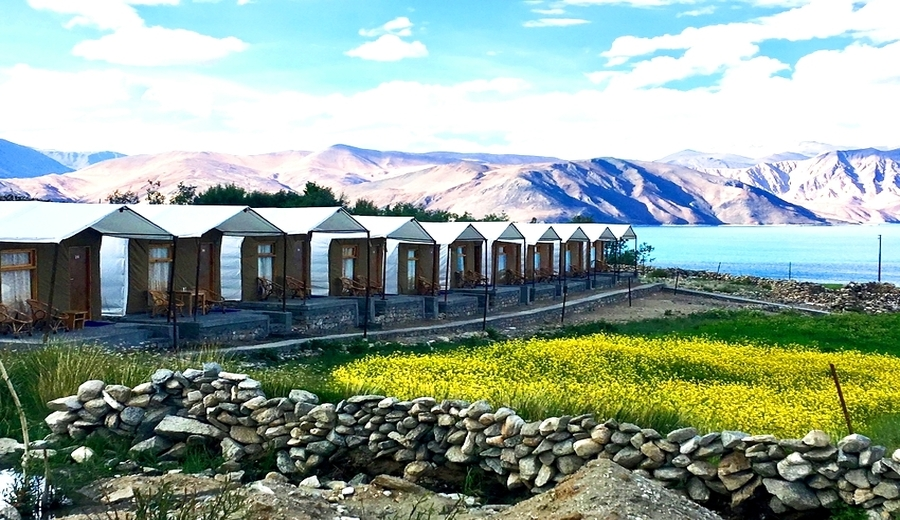 Pangong is known for its 4,350-meter-high saltwater lake. In the midst of steep mountains, its blue water seems enchanting. Setting up camps in Pangong is the ideal way to take in the splendour. Pangong Lake camps can be an unforgettable adventure. It doesn't get much better than building a campfire, firing up the grill, and taking in the scenery. This massive lake has plenty of places for visitors to pitch their tents and enjoy the scenery. A number of luxury camps including the best facilities and amenities can be found near Pangong Lake.
Here are the ten most extravagant Pangong Lake Camps that exemplify the camping experience!
World's Attic Camp is situated in Spangmik – Pangong Tso Lake, in the best site in the world, facing the world-famous filming point from the movie Three Idiots. Pangong Tso Lake is visible from World Attic Camp and it being the first camp, you will get an unobstructed view of the enchanting lake, Pangong Tso, if you book the best camps in Pangong Lake. The World Attic camp includes 15 Super Deluxe Tents with a sitting lobby area and well-kept western toilets with a variety of amenities. World Attic Camp is around 150 kilometers east of Leh Town, and it takes about 4 hours to get there.
Camp Redstart, another one of the most exquisite camps in Pangong Lake amid the vast and beautiful Himalayan land, is only a few minutes' walk away from the lake. This location offers everything to appease your inner wanderlust, from a luxurious stay to delectable food options. Camp Redstart has a significant advantage over its competitors who offer camping in Leh Ladakh because of its intimidating elevation. The wonderful nature views with the stunning Pangong Tso in the background can be enjoyed from here.
This is one of the top luxury sites in Pangong Lake for that ultimate camping experience near the Nubra Valley hotels resorts, beneath the brilliant night sky, as the name suggests. Whispering Camps, located on the shore of Pangong Lake in Spangmik, is a haven for adrenaline seekers and adventurers. You'll want to remain here forever because of the stunning views of the Changchenmo range of mountains to the north. Spend some time marvelling at the mountains reflected in the dazzling water of Pangong Lake as it eventually becomes greenish.
Aryan Valley Camp, one of the luxury Hotels In Nubra Valley, Pangong Camp is the most luxurious camp, offering its visitors an unforgettable glimpse of the region's natural splendour. Camping here in Ladakh is a great chance to get away from it all and appreciate the grandeur of the Himalayas, which is the camp's most striking feature. You'll be able to stay in premium tents with modern conveniences, ensuring a pleasant stay. Organic Farming, Attached Bathrooms, Hot and Cold Water Supply, Continental Breakfast, and Modern Heaters are just a few of the outstanding features provided by the camp.
Thiksey Monastery, from the country of the Lamas, welcomes adventurers to their one-of-a-kind camps in Pangong Lake, Thiksey's Chamba Camp. You can unwind in individually constructed tents with en-suite toilets, private decks, fresh linens, and the services of your own butler at the Chamba Camp, Thiksey. Over the course of a few fire-lit evenings, sample delectable family foods and listen to stories from experts and guest travelogues. Celebrate memorable moments with friends and family under a million stars, such as a wedding, an anniversary, or a birthday.
The tents of 100 Sky Camp, located on Spangmik Leh, offer campers the perfect chance to experience magnificent views of the surrounding mountains. These tents are designed to meet all of your demands as a traveler and adventure seeker. They've captured the allure of luxury tents while providing world-class amenities and services. Camp is a calm haven away from the crowds, surrounded by the lake and snowy mountains. They just like the Nubra valley hotels resorts, provide a one-of-a-kind cosy camp experience, with traditional and coloured tents tastefully supplied with every amenity.
One of the most scenic sites to camp is at 14200 feet by the magnificent Pangong Lake. With its sparkling tranquil waters and massive sky as a backdrop, this location offers a one-of-a-kind camping experience. All of Nature's Nest Camp's excellent camps are deluxe in nature just like luxury Hotels In Nubra Valley, and Pangong Camp, and feature an attached bathroom. The camp's clean interiors and well-kept eating area are noteworthy. Luxury tents with coir-cushioned mattresses, hot and cold running water, multi-cuisine food (Ladakhi, Chinese, Indian, and Continental), an apricot farm nearby, and camel rides are available.
This luxurious camping stay in Leh is located in the Nubra Valley. The campers are provided the most extravagant service by providing organic produce and local tourist activities. You can count on a pleasant stay and delectable cuisine! It goes without saying that this is one of Pangong Lake's top camps in Pangong Lake spot. They also provide camel safaris, local sightseeing, luxury tents with integrated toilets, electric blankets, oxygen cylinders, guided village treks, and camel safaris for double and trip-sharing guests.
Tsomoriri Camp and Resort
The Tsomoriri Camps are ideal for nature lovers. A camping trip here at 15,000 feet in the Changthang region will allow you to enjoy the grandeur of the vast natural world while marveling at the Himalayan majesty. There are 5 chambers and 15 connected tents with Jute floorings and boutique-style decor on the walls, as well as all the amenities similar to Nubra valley hotels resorts. On your Pangong camping excursion, the views of the beautiful Lake in front of you will fill your heart with plenty of magnificence.
Highland Camps are located in Ladakh's Highland area (Lukung Village) beside the magnificent Pangong Tso, as the name suggests. With some of the best views of the majestic mountain and the lovely Pangong Lake, you'll feel as if you've stepped into another universe when staying in their comfy tents and luxury Hotels in Nubra Valley, Pangong Camp. There are ten premium Swiss Camps in total, each of which is well-built and equipped with modern amenities. Each tent has its own restroom with cold and hot water available 24 hours a day.
Conclusion
Every traveller will find camping in Pangong Lake camps to be an unforgettable experience. You'll understand why Ladakh is every dreamer's desire after spending a few evenings beneath the illuminated sky with the complete cosmos in front of your eyes. Book the best camps in Pangong Lake today and experience the memory of a lifetime with these luxury camps suggested above and have the trip of your life.